Wonderfully Walkable: The Benefits of Casually Strolling with Your Partner
Dating has always had this stigma of being over complicated and tons of work. Even though the larger efforts are necessary, they are not the only elements that matter. In fact, most would argue that the little things are what matters most, because they are an everyday expression of love and endearment.
However, just because the small things are simple, doesn't mean they are easy to get right. More and more couples are unsatisfied with their daily routines together and are in dire need of some added spice. Thankfully, that much-needed ingredient can come in the easy form of walking together.
Benefits of Walking With Your Partner
Walking has become the oldest "new trend", and more people are seeking the many health benefits found in this modest method of exercise. Here are 5 benefits you can enjoy while walking with your partner or loved one:
1. Stimulates Joy and Peace:
In 1984, Dr. Robert Thayer conducted a study to see how walking affects people facing every day stressful situations. Volunteers were asked to deeply describe their ongoing personal problems, many of which revolved around marital issues, work stress, and physical image. After getting riled up, Thayer asked each patient to go on a 10-minute speed walk and then report back to the office to further discuss his or her issues.
Surprisingly, when the volunteers returned, the severity of their personal problems had diminished drastically. Walking had caused a majority of the subjects to feel less stressed while facing their problems and even gave them more optimism and joy. Walking may have a similar, positive effect on your mentality.
2. Strengthens Memory:
According to a study in 2011, published by Proceedings of the National Academy of Sciences, those who walked for 40 minutes, 3 times a week for a year experienced a 2% growth of the hippocampus in the brain. The hippocampus is the portion of the brain that is responsible for memory and emotion, so the test subjects who walked received an immaculately higher score on a memory test compared to the control group who did not.
It is uncertain as to exactly why this phenomenon happened, but scientists speculate that the increased blood flow to the brain, due to walking, may have been a contributing factor. Regardless, walking increases brain activity and growth, which may help restore memory.
3. Heart Healthy:
Any activity that increases heart rate is beneficial to your health in general, but it is specifically vital to the heart. Exercise pumps blood through this organ more often than when the body is at rest, so exercise is also a workout for your heart. The more in shape you become, the healthier your heart is as well.
However, rigorous exercise is exhausting, especially for those who are out of peak physical shape, which is why many are discouraged when initiating a workout regiment. Thankfully, walking is a great way to condition your heart for exercise, as it increases blood flow without the sweat and tears that often go alongside rigorous exercise.
4. Weight Loss:
Since the heart is pumping more blood during activity, it also needs to consume more energy in order to do so. More energy used means more calories burned, which, overtime, creates weight loss. Walking specifically is beneficial because, not only does it burn the fat, but it also tends to keep it off.
Those who walk are able to decrease their calorie intake because they are able to exercise in a healthy manner without the need to replace those burned calories. Walking is a "light" activity, and thus doesn't cause the aggressive munchies often experienced after a more intense workout. Therefore, those who walk periodically tend to loose weight and keep it off.
5. Stimulates Communication:
Being outdoors, couples are forced to step away from technology and embrace the gadget free technology. Without forms of social media, people are forced to openly communicate without the façade of a screen. It may be uncomfortable at first, but over time, honest talk and intimate communication will ensue during a casual stroll.
If you choose to walk on a more strenuous path, not only will the two of you share in stories, but will also grow through encouragement. When the walk becomes an uphill battle, your partner may need to step in and encourage strength, share love, and even take some of the load. At the end of the walk, two partners will be bonded through intimate communication and by overcoming an obstacle together.
Places to Walk Together
Now that we have established the important benefits of casually strolling together, it's time to go out and hit the trail yourself! However, picking the ideal track may be more challenging than expected.
Luckily, we have tested the path ahead and found the top 4 Walking Paths In Houston, Texas to try:
1. Rice University Loop: Located in the heart of the institute, the Rice University Loop has been known for its incredibly lush trails and beautiful sites. The gravel trail is just shy of 3 miles long and is comfortably wide for walkers, joggers, and bikers alike. Not to mention, the entire path is lined with trees, which creates the optimal shade. After the walk, you can hit up one of the on-campus coffee shops and even take a seat on a park bench for further chitchat.
"Kind of obsessed with this running trail. I'm not going to lie, it's one of my favorite things about Houston. It's so pretty, and I love that being on it means I am surrounded by others who care about health and fitness. I love that I can bring my dog, and that other people bring theirs." By Bridgette A. on Yelp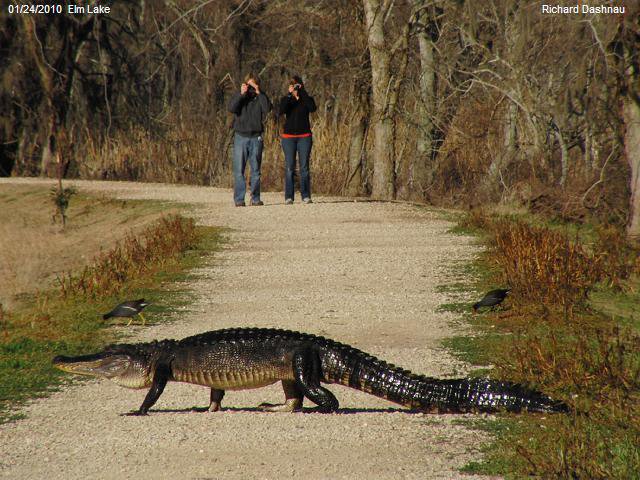 2.Brazos Bend State Park: A collection of three hiking paths, Brazos Bend is the perfect destination for those seeking a more adventurous walk or bike ride. However, even if this trek is a little more tiresome than the traditional stroll, couples will never grow weary of the endless beautify in this park, which is surrounded by thick foliage, a vast lake, and a hardwood forest. Oh, and you may come across a few alligators too.
"We geocached on our most recent trip to Brazos Bend and found a digital camera! Elm Lake was a beautiful hike, and it provided an excellent place for bird watching and looking for alligators." By Lillian H. on Yelp
(Photo Source: Richard Dashnau)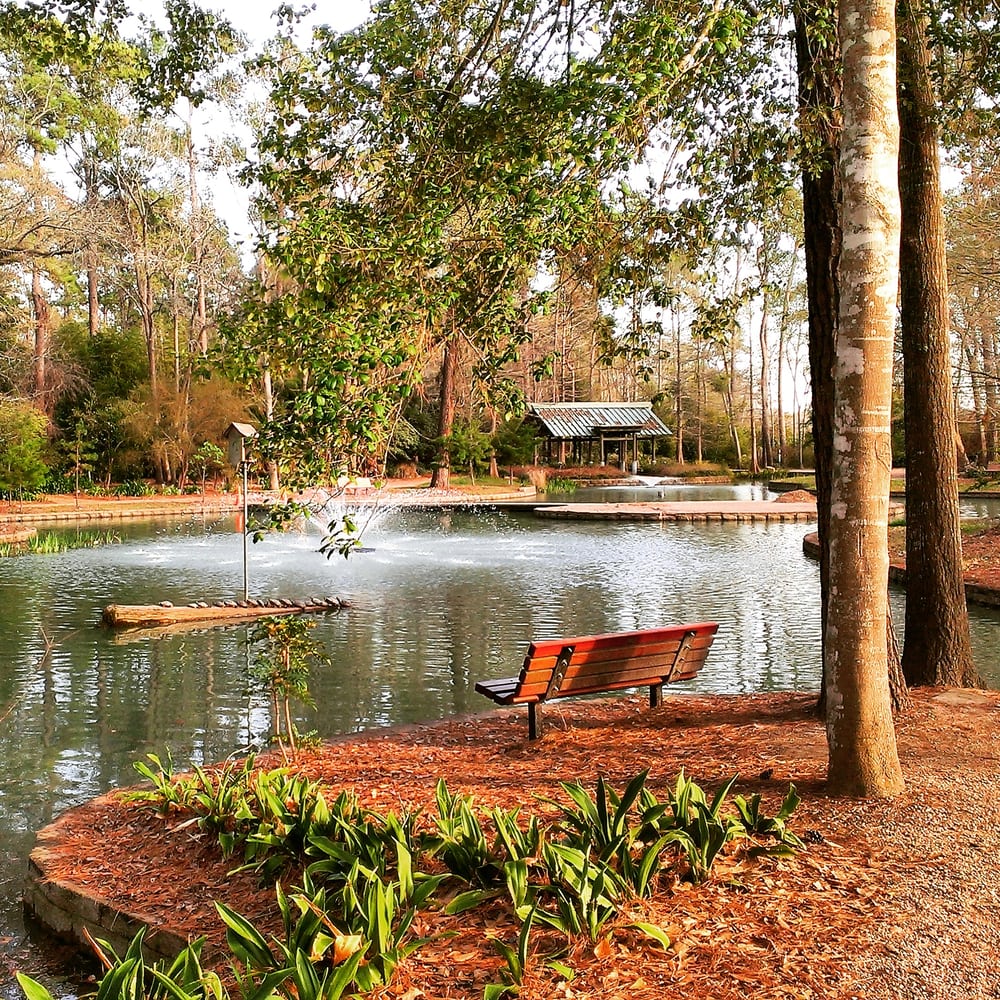 3. Mercer Arboretum: This location, though a slight drive from downtown Houston, is definitely worth the trip out, and parking is free! The entrance of the Mercer Arboretum is near the Bush international Airport and is known for its wide range of environments and activities, which include hiking trails, children's playgrounds, and picnic areas. Not to mention, the area is also home to 300 acres of lush gardens and bogs. Despite the vast space, each walking trail is between 1 and three miles, so couples can choose a few courses to enjoy during a single day.
"Wow, Houston. Way to go, keeping these gems on the down low. I love discovering new reasons to love my hometown […] The Botanical Gardens (on the east side) are beautiful. Flowers were blooming in the middle of January. There are fountains, benches to sit on, and beautiful trees." By Rose K. on Yelp
(Photo Source: Caitlin H. on Yelp)
4. San Antonio River Walk: Though this destination may take about a 45-minute drive west, the San Antonio River Walk is definitely a must-do day excursion. The event is pretty much as it sounds: a walk along the banks of a cobblestone lined river, but that's not the only excursion. The water is lined with some of the most unique and fun family owned restaurants and boutiques. Plus, the first Friday of every month, local artists set up along the side streets to display their local work. And, if your legs get tired of strolling, put your feet up and take a joy ride in a gondola down the river.
"Nothing too expensive but it's walking distance to all the fun stuff on the riverwalk."By Daniel V. on Yelp
(Photo Source: San Antonio River Walk)
Can't get enough walking? There is an entire blog dedicated to exploring the wilderness and discovering hidden paths together. To check out "Houston Walks", click here, or click on this map to find trails near your area.
No matter which path you choice to walk, its important to exercise both your heart and your communication with your partner. Walking is not only healthy, but also vital to couple's emotional wellbeing. Grab your loved one and your walking shoes because its time to enjoy the great outdoors together!